Ultimate Wheel & Tyre Kit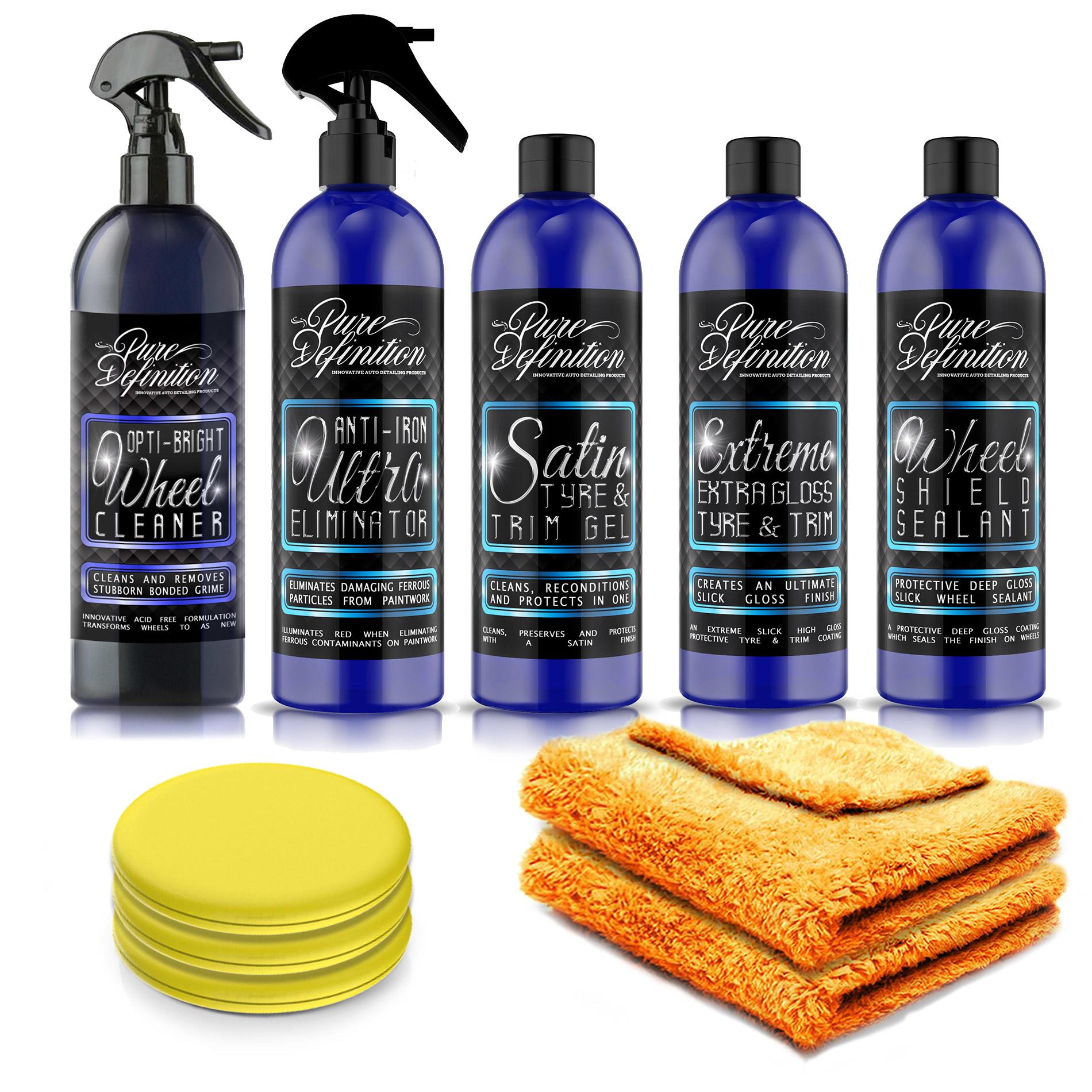 Ultimate Wheel & Tyre Kit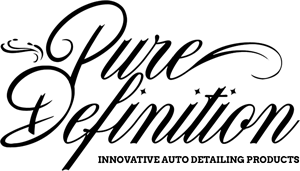 ---
Wheels and tyres are constantly bombarded with dirt and grime, yet they are often a detailing area which is often over looked. We at Pure Definition have developed a complete detailing kit which offers specialised products which will ensure your wheels and tyres are cleaned, revived, maintained and protected. Best of all the ultimate wheel & tyre kit will leave a protective coating on both the wheels and tyres for months.
Cleans & Removes Stubborn Dirt From Wheels

Eliminates Ferrous Contaminants Such As Brake Dust

Protective Coatings Enhance Wheel & Tyre Finish

Preserves & Protects Wheels & Tyres

High Gloss Protective Finish
STEP ONE - OPTI-BRIGHT WHEEL CLEANER (250ml)
Opti-Bright Wheel Cleaner has been developed using a powerful innovative acid free formulation. The innovative formulation has been developed with once sole purpose in mind - to clean and remove stubborn brake dust and contamination from heavily soiled wheels.
Once applied via spraying onto the wheel surface, Opti-Bright Wheel Cleaner penetrates deep into the contamination releasing it from the surface which it was once bonded to.
The formulation is completely acid free, this reduces the risk of damage to wheels when cleaning. Spray, wipe and rinse, the wheels will be transformed back to their original finish.
---
STEP TWO - ANTI-IRON ULTRA ELIMINATOR (250ml)
Anti-Iron Ultra Eliminator is an extremely effective formulation which is developed to eliminate and remove damaging ferrous contaminants from paintwork and wheels.
This unique formulation is a key preventative step in keeping your vehicle corrosion free, ensuring total removal of rust causing ferrous particles which become ingrained into the surface of the paintwork over time.
The ferrous particles are created from brake dust and other environmental contaminants such as industrial fallout which will eat through the paintwork and bodywork if left untreated. Anti-Iron Ultra Eliminator works to cleanse deep into the pores of the paintwork eliminating the concealed ferrous particles.
---
STEP THREE - WHEEL SHIELD SEALANT (250ml)
Wheel Shield Sealant is designed and developed to  add gloss and protection specifically to alloy wheels. The formulation protects the wheel finish from numerous contamination and UV radiation. It makes future cleaning even easier as it creates a clear protective shield coating which prevents brake dust and road soils from embedding in the wheel surface.  
Wheel Shield Sealant is very easy to use, making it very quick to apply to the wheels and very easy to buff away. Buffing the sealant reveals its high gloss protective coating finish. The slick protective sealant coating makes regular washing of the wheels even easier, as it makes it harder for dirt and grime to stick to the finish of the wheels.
---
STEP FOUR - SATIN TYRE & TRIM GEL (250ml)
---
STEP FIVE - EXTREME EXTRA GLOSS TYRE GEL (250ml)
Extreme Extra Gloss Tyre Gel is developed as an optional extra extreme high gloss clear protective coating to be used after application of Gloss Tyre & Trim Gel, which cleans and reconditions the area before use. The formulation is purely developed with specialised ingredients which have one sole purpose in mind,  to produce an intense extra high gloss finish which truly lasts.
In addition to adding excellent depth of gloss, the characteristics of the gel coating formulation also enhances the longevity of the protection from Gloss Tyre & Trim Gel by producing an additional durable clear coating which helps keep the tires hydrated and supple, as well as looking brand new, removing the worn faded look.
There are no reviews for this product.
*Instructions: apply in this order - Opti-Bright Wheel Cleaner, Anti-Iron Ultra Eliminator, Wheel Shield Sealant, Satin Tyre And Trim Gel, Extreme Extra Gloss Tyre Gel