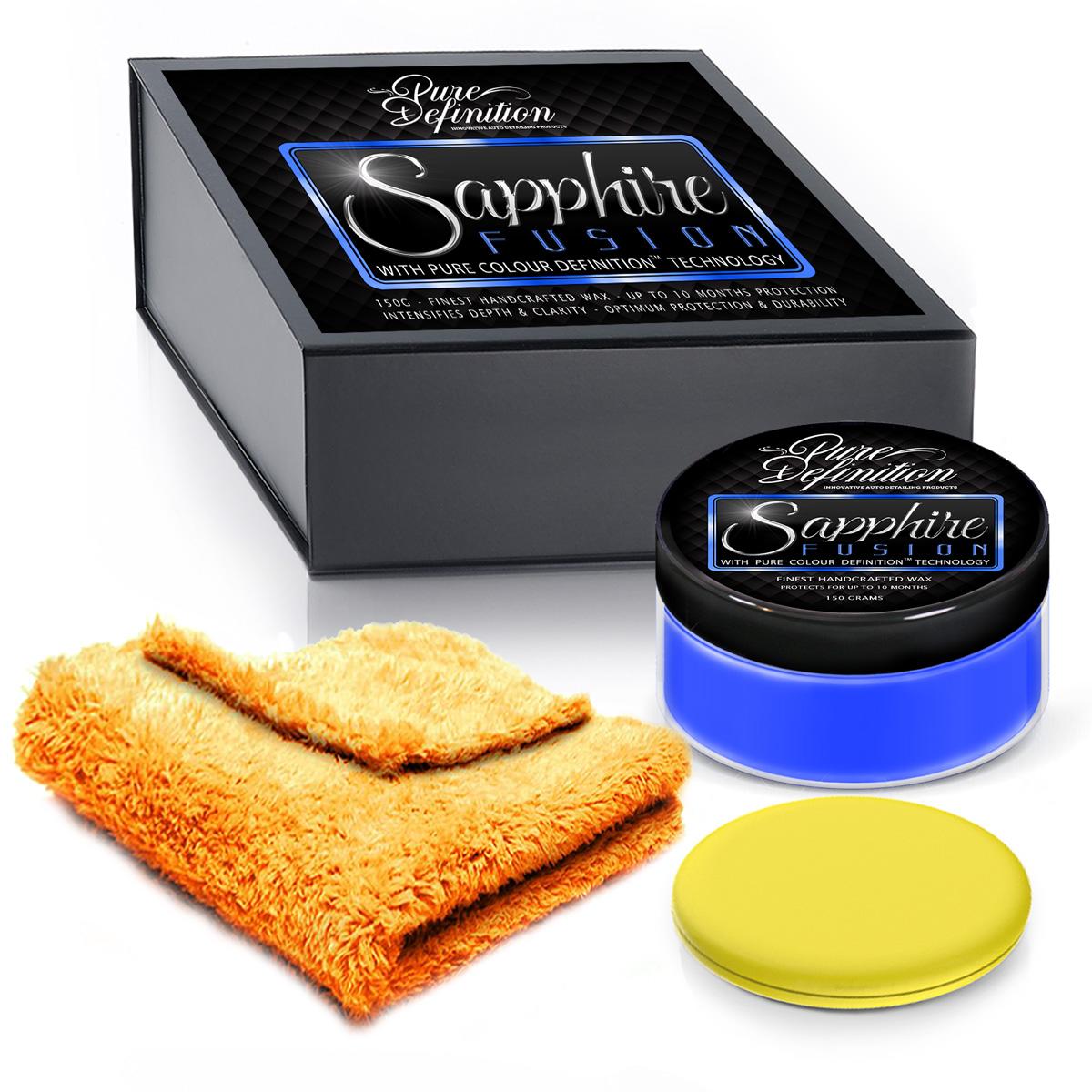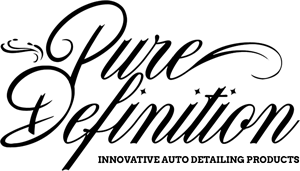 ---
Sapphire Fusion is the pure definition of depth and clarity. Developed with pure colour definition technology, Sapphire Fusion is the perfect wax for blue and dark coloured paintwork. Developed and handcrafted with a sophisticated blend of top-secret innovative ingredients to give the deepest shine and highest level of perfection and optimum paintwork protection.
Finest Handcrafted Paste Wax  
Creates The Brightest Shine For Blue Paintwork  
Slick Protective Wax Coating Makes Regular Washing Even Easier
Up To 10 Months Protection From Various Contamination & UV Radiation
Transforms The Paintwork To The Next Level Of Definition & Brightness.
Sapphire Fusion has been specially developed to take blue and dark coloured paintwork to the next level of depth and reflection. Once applied it intensifies the colour and clarity of the paintwork, imparting an elegant reflective mirror finish which truly lasts.
Sapphire Fusion repels water and contamination, making it even easier to wash and dry your vehicle. The ultra-slick advanced formulation offers extreme paintwork protection and durability for up to 10 months. Sapphire Fusion will protect and withstand against all environmental conditions such as, rain, snow and UV radiation, which would cause fading and discolouration if not protected against. Sapphire Fusion creates the brightest shine for blue and dark shades of paintwork.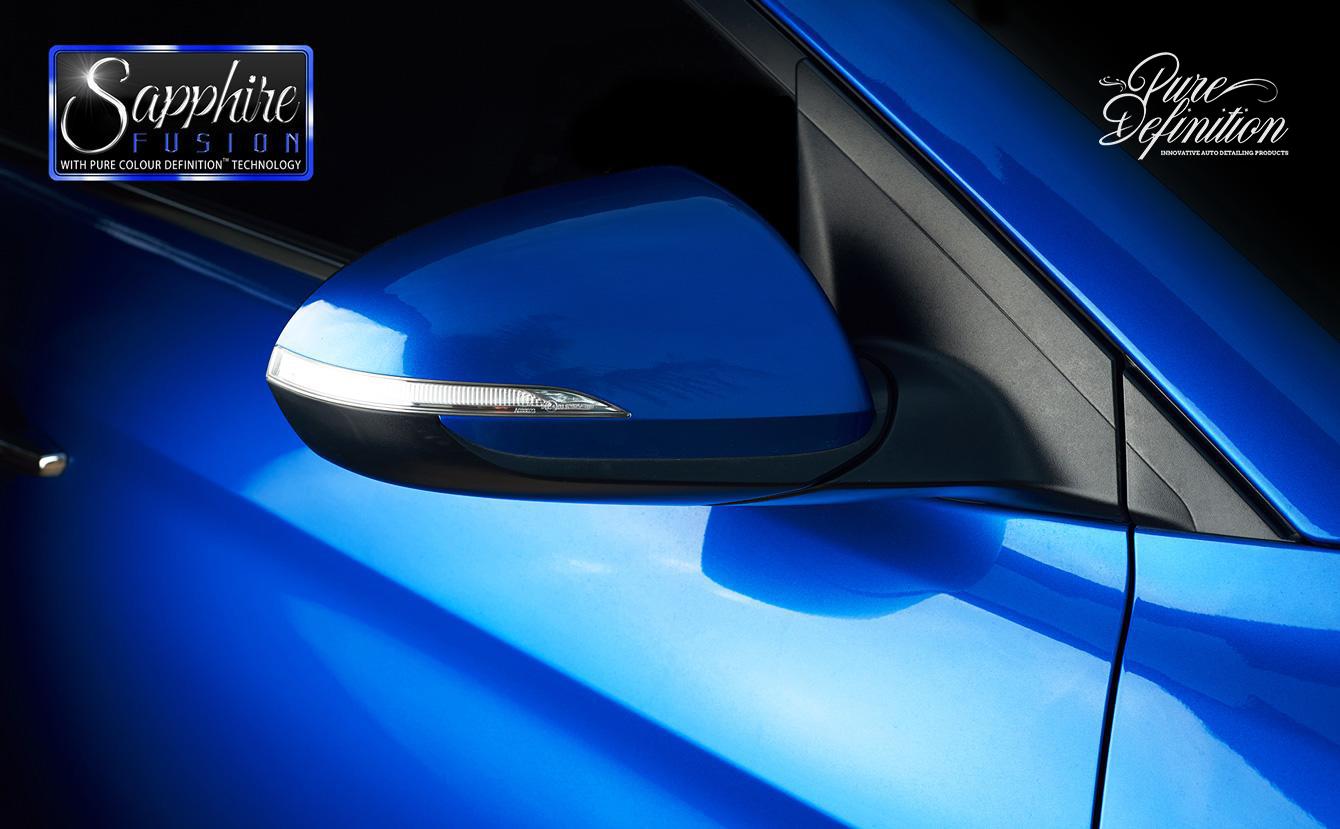 ---
FOAM APPLICATOR PAD
Pure Definition's Super Soft Polish & Wax Applicators are a key tool when it comes to applying detailing formulations and treatments such as, polish, wax, vinyl gel and more. The applicator molds to the curvature of the bodywork ensuring even distribution of the product. The high-quality soft polyfoam cell structure is super absorbent, which makes applying the product very easy as it gradually releases the formulation.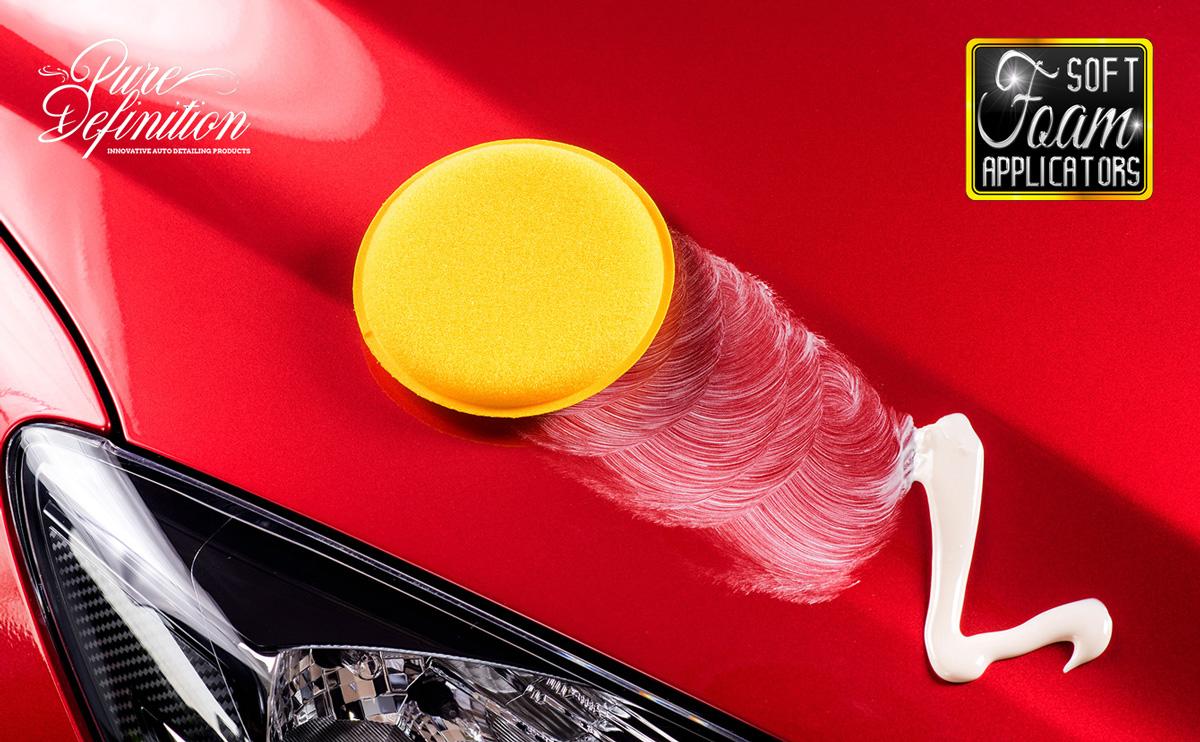 ---
FLAWLESS EDGELESS MICROFIBRE
The Flawless Edgeless Microfibre cloths are developed to polish, buff and shine all vehicle surfaces faster, more thoroughly and more safely than other microfibre cloths on the market. The dual pile weave is ultra plush to the touch, ensuring no scratching or streaking, even on the most delicate vehicle paintwork. The ultrasonic cut, plush edgeless surround of the microfibre towel guarantees no hard edges on the microfibre, creating a swirl free experience.
Our orange Flawless Microfibre cloths are 30x40cm in size and are suitable for the majority of detailing tasks; such as removing polishes, waxes and cleaning all surfaces inside or outside of your vehicle. The plush 365GSM thickness helps absorb the polish, wax and cleaning solutions, while ensuring dirt is pushed deep inside the cloth away from the surface been cleaned, preventing any scratching to the surface.
---
PURE COLOUR DEFINITION™ TECHNOLOGY
Pure Definition developed Pure Colour Definition™ Technology to ensure the very best clarity, reflection, shine and finish for the colour tone of your vehicle. The unique Pure Colour Definition™ Technology magnifies the appearance of the paintwork for a true eye-dazzling colour experience.
Sapphire Fusion is created with Pure Colour Definition™ Technology to create a wax which is handcrafted to work on dark and blue paintwork colours. Once applied it adds depth to the colour of the paintwork, imparting an elegant reflective mirror finish which truly lasts. Sapphire Fusion is the perfect wax for dark and blue coloured paintwork.
---
WHEN SHOULD I USE THIS PRODUCT?
Sapphire Fusion should be applied after preparing the paintwork (if required with polish and/or Pre-Wax Cleanser). After application only use a PH Neutral car shampoo to clean the paintwork, such as Gloss Wash Shampoo or Pure Wash Shampoo.
There are no reviews for this product.

Wash your vehicle ensuring that all dirt is removed from the paintwork before waxing. Do not use the wax on contaminated or dirty paintwork. Once a layer of Sapphire Fusion has been applied onto your paintwork, within approximately 20 minutes it will transform into a rock hard protective layer. This layer locks in the colour, depth and clarity enhancers which are infused in the wax to create the unique and complex Sapphire Fusion formulation.