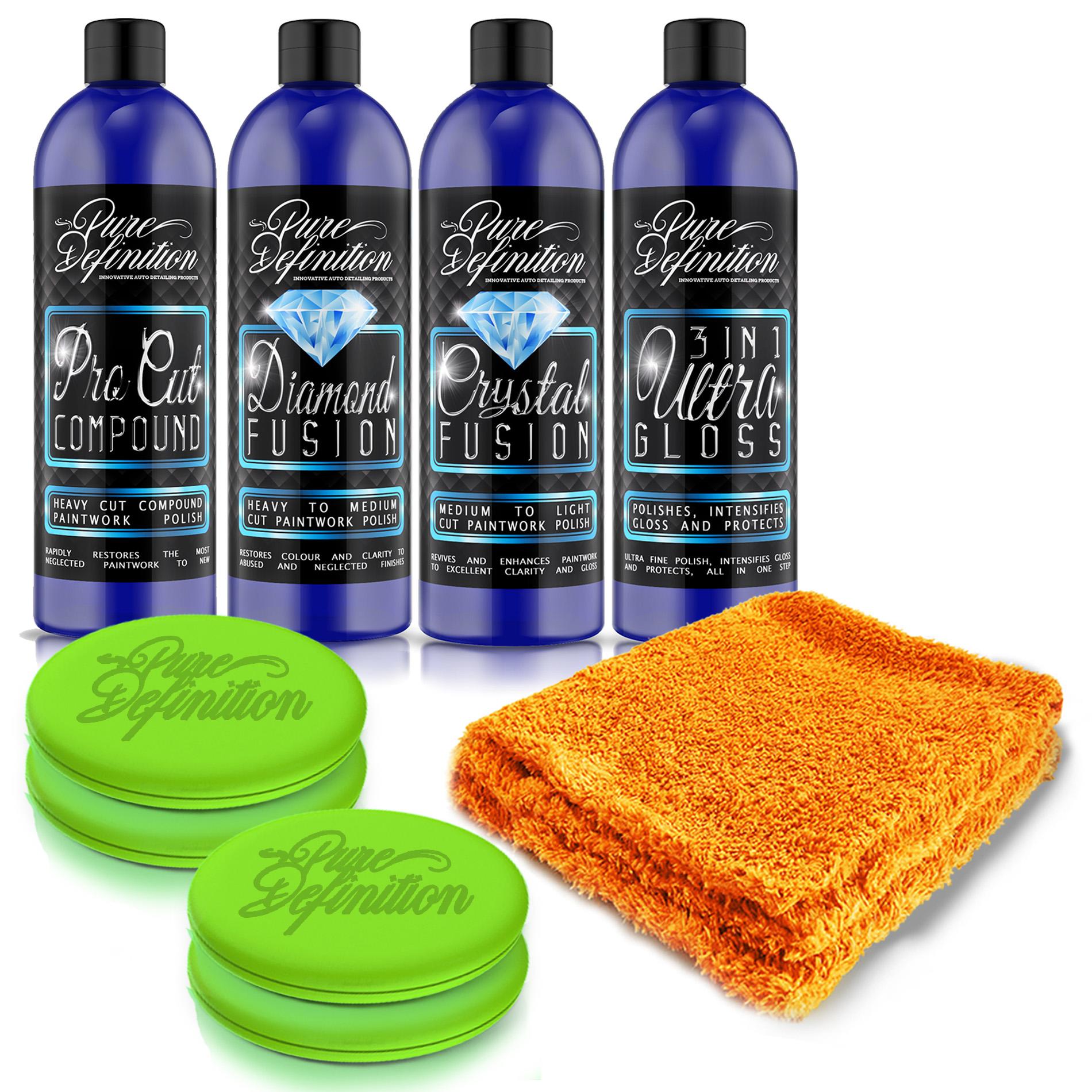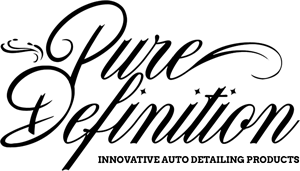 ---
Transform the condition of the paintwork on your car, remove the camouflage of scratches which are preventing you from achieving a brand new showroom finish. This kit contains 4 different grades of polishes, start of with the heavy greade Pro Cut Compound and finish of with 3IN1 Ultra Gloss.
Removes Scratches & Defects From Paintwork

Ensures The Best Possible Finish

High Quality Advanced Mirco Abrasives

Enriches The Gloss & Depth Of The Paintwork

Full Range Of Polish Grades
Kit Contents:
This kit contains a huge variety of products to polish your paintwork:
PRO CUT COMPOUND (250ML) 
DIAMOND FUSION (250ML) 
CRYSTAL FUSION (250ML) 
3 IN 1 ULTRA GLOSS (250ML) 
ACCESSORIES - 4 X PURE DEFINITION GREEN FOAM APPLICATOR PADS, 1 X FLAWLESS EDGELESS MICROFIBRE CLOTHS (365GSM)
PRO CUT COMPOUND

Remove the concealment of heavy scratches which are hiding the true colour of your paintwork. Pro Cut Compound is a high quality polish which is formulated using an array of compounding abrasives which focus on removing very heavy and medium scratches. Pro Cut Compound will enhance the clarity of the paintwork, creating a clearer and enhanced finish.

DIAMOND FUSION

Diamond Fusion polishes out heavy to medium paint defects and imperfections, leaving the paintwork ready for the next polishing stage using Crystal Fusion polish. In situations where the paint defects are very heavy multiple applications may be required.
CRYSTAL FUSION

Crystal Fusion polishes out medium to light paint defects and imperfections. It is developed to revive and enhance the clarity of paintwork, leaving a glossy and reflective finish.

3IN1 ULTRA GLOSS

3 IN 1 Ultra Gloss polishes, intensifies gloss and protects all in one step. The micro abrasives focus on removing light to very fine paint defects with the precision and clarity that perfectionists demand.
FLAWLESS EDGELESS MICROFIBRE

Our Flawless Edgeless Microfibre Cloths are one of the finest quality on the market today. The ultra plush fibres prevent any scratching or streaking, even on the most delicate vehicle paintwork. The edgeless surround of the microfibre cloth ensures there are no hard surfaces on the cloth, offering one of the safest swirl-free microfibres on the market.

PURE DEFINITION APPLICATOR PADS

To ensure the full effectiveness of applying your detailing products it is important that they are applied correctly. Our foam pads are super absorbent, allowing the product to be spread evenly.









There are no reviews for this product.