Interior Cleaning & Detailing Kit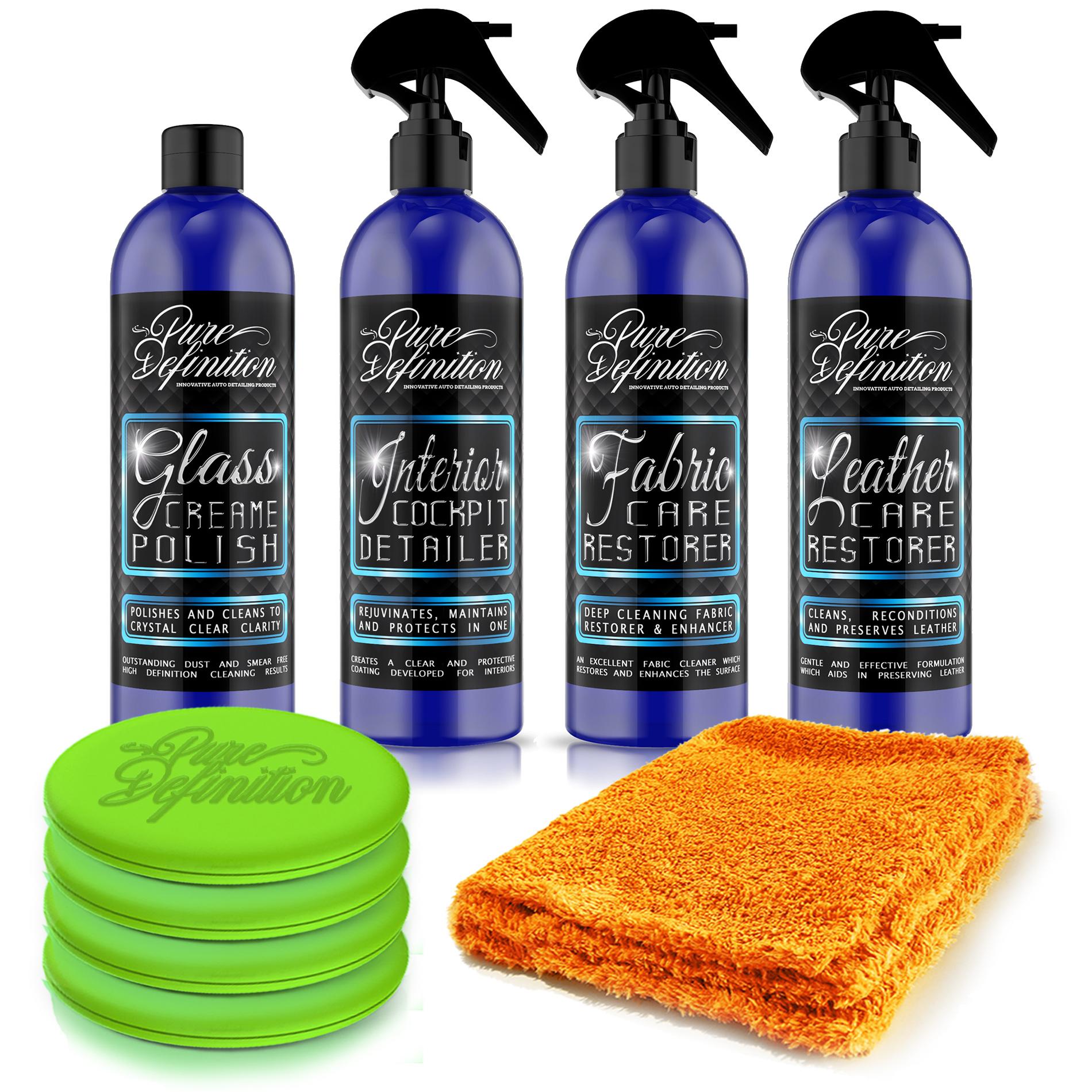 Interior Cleaning & Detailing Kit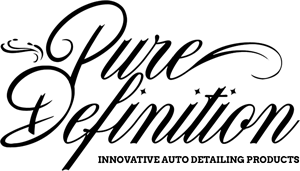 ---
raiting star
raiting star
raiting star
raiting star
raiting star
View product video
At Pure Definition we know how important it is that your interior is as clean and the exterior of your car. The cleaning and detailing products provided in this kit provide a range of treatments which revive, enhance and maintain all the interior surfaces.
Excellent Spot Stain Remover

Gentle But Effective

Outstanding Value

Advanced Formulation

Deep Cleaning

Maintains The Interior
Kit Contents:
This detailing kit contains a huge variety of products to enhance your vehicles interior:
INTERIOR COCKPIT DETAILER (250ML) 
LEATHER CARE RESTORER (250ML) 
GLASS CREAME POLISH (250ML) 
FABRIC CARE RESTORER (250ML) 
ACCESSORIES - 4 X PURE DEFINITION GREEN FOAM APPLICATOR PADS, 1 X FLAWLESS EDGELESS MICROFIBRE CLOTH (365GSM)
INTERIOR COCKPIT DETAILER

Interior Cockpit Detailer rejuvenates, maintains and protects exterior vinyl trims, rubber, leather, wood and wood veneer surfaces. It treats the surfaces gently removing any dirt and grime. Additionally, leaving a fresh refreshing fragrance.

Interior Cockpit Detailer is gentle but effective, focusing on safely removing dirt and grime without harming the surface.

Once Interior Cockpit Detailer is applied, it creates a tough, clear, flexible and protective coating. The clear coating protects against damaging UV radiation, and helps in repelling dust with its antistatic properties and creates a barrier against moisture.

LEATHER CARE RESTORER

Leather Care Restorer is one of the easiest and most friendly leather cleaners. It is gentle, but effective, focusing on safely removing dirt and grime without harming the leather. Additionally, using leather care restorer frequently helps in preserving the leather, keeping it soft and supple.

Once Leather Care Restorer has been applied it penetrates the pores, lifting the dirt and grime away from the surface. No streaky or soapy residue will be left after the cleaning process has been completed. The formulation is completely colourless and without a scent, this is to ensure that the colour and natural smell of the leather is left intact.
GLASS CREAME POLISH

Glass Creame Polish is developed utilizing the latest technology, giving outstanding cleaning results without the formulation of dust. It is easy to use and is exceptionally fast at removing all contaminants from glass or ceramic Surfaces.

The specialist cleaning and polishing agents within the formulation remove all common contaminants such as grease, wax, insect marks and traffic film. It leaves glass with a crystal clear, smear free finish which can be used inside and out of the vehicle. Unlike many other domestic cleaners, the innovative formulation in the Glass Creame Polish is silicone free. This prevents dangerous smearing on the windscreen in wet weather.

FABRIC CARE RESTORER

Fabric Care Restorer is a versatile cleaner developed for all interior fabric surfaces such as carpets, boots, headlining, seats, mats and footwells. The formulation is developed to restore the worn and dirty surface back to an as new factory finish.

Once Fabric Care Restorer is applied, the formulation cleans deep into the fabric and lifts any dirt and grime away from the surface. additionally, the advanced formulation contains fabric enhancers which revives the colour and brightness of the fabric.

Once the Fabric Care Restorer has been used, it leaves a refreshing citrus fragrance which removes the odour associated with the dirt and grime.
FLAWLESS EDGELESS MICROFIBRE

Our Flawless Edgeless Microfibre Cloths are one of the finest quality on the market today. The ultra plush fibres prevent any scratching or streaking, even on the most delicate vehicle paintwork. The edgeless surround of the microfibre cloth ensures there are no hard surfaces on the cloth, offering one of the safest swirl-free microfibres on the market.

PURE DEFINITION APPLICATOR PADS

To ensure the full effectiveness of applying your detailing products it is important that they are applied correctly. Our foam pads are super absorbent, allowing the product to be spread evenly.









Reviews (1)
raiting star
raiting star
raiting star
raiting star
raiting star
Very good quality interior cleaning kit. The selection of different products work very well together as they all have there own cleaning abilities on specific materials. The trigger sprays are very accurate, which can be a problem with other brands as they tend to spray over a large area not necessarily targeting the areas which you are trying to clean, wasting product and leaving residue everywhere. Very impressed with the glass creame polish, leaves a completely smear free finish, far superior to any window cleaning spray. Also works a treat on the mirrors in my house.